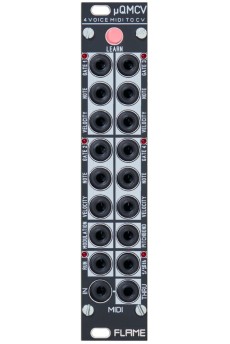 The FLAME µQMCV 4Voice provides 1V/oct, gate and velocity CV signals for four voices from the incoming Midi signals and additionally offers an aftertouch and modulation CV output as well as a run transport output and clock output.
Features:
4 Midi to CV channels with Gate,Note, Velocity
5 modes are possible:
    A) 4-way polyphonic (all same MIDI channel)
    B) 3x polyphonic+1x monophonic (2 different MIDI channels)
    C) 2x two voices (2 different MIDI channels)
    D) 1x two voices and 2x monophonic (3 different MIDI channels)
    E) 4x monophonic (all different MIDI channels)
2 gate outputs for MIDI-Clock Run and 1/16th clock
2 additional controller CV outputs for modulation wheel and pitchbend
MIDI Input and THRU (TRS MIDI B standard)
Power consumption: 70mA at +12 V and 20mA at -12 V
Depth: 40mm
HP : 5
---
.
---
.
---
.
€
189
Video